Meaty Marinara Sauce
Marinara sauce is in the Top 10 of classic, best and favorite comfort foods.  There is no exception to this fact on my personal list of comfort food favorites.  When I was a girl, my grandma used to make a meaty marinara sauce (yes, Alabama folks like marinara sauce too!).  It was really good, and way more filling than most red pasta sauces.  So I've created my version of meaty marinara sauce that will make you feel comfortable, satisfied and full!  Enjoy!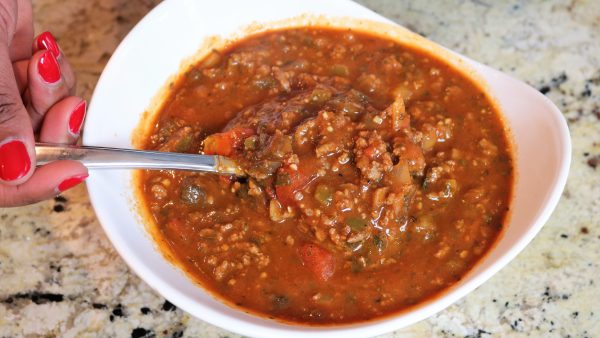 | | |
| --- | --- |
| | |
Saute the yellow onion and bell pepper in olive oil. Add herbs for seasoning.

After approximately 5 mins, add mushrooms. Combine well.

Once soft, add ground beef. Be sure to combine the meat and the vegetables all together well.

When meat is cooked, add tomato sauce and bring to a boil.

Add fire roasted tomatoes and red cooking wine.

Taste; add additional seasonings if necessary.

Add sugar (to reduced the acidity of the tomatoes).

Let sauce simmer 30 minutes or more to allow all flavors to come together.