Corn, Bacon & Potato Chowder
It's winter time and it's freezing where I live.  What's the best thing to eat when you're cold?  Soup!!!!  When I make soup, I make it super hearty and filling.  I don't do loose, broth soups.  I use broth, don't get me wrong, but I load it up with goodies.  All of that said, this is one of my favorite soups, and lucky for me, my family loves it to – BONUS!
The mix of poblano and jalapeno peppers gives this chowder a very rich flavor profile.  And the bacon, well, bacon makes everything better!!  Finally, the potatoes just make this soup unforgettable.  Ok, enough talking, I want another bowl right now!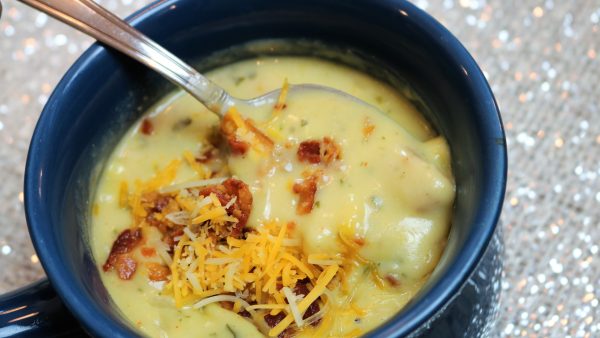 | | |
| --- | --- |
| | |
Cook bacon in soup pot. Set aside some of cooked bacon for garnishing soup when serving.

After bacon is done cooking, leave in pot, add onions and jalapenos. Cook until translucent.

Add 1 cup of flour. Stir to combine. Bring to a slight boil.

Add chicken broth. Bring to a boil, add potatoes.

Cook potatoes in soup pot for about 10 minutes, until you can stick a fork through the potatoes.

Add corn. Stir to combine.

Add cream. Stir to combine.

Add cheese. Stir to combine.

Add cilantro, cayenne and salt.

Stir all ingredients together. Bring to a boil, then reduce heat to medium to simmer for 20-30 minutes as soup thickens. Stir frequently to avoid sticking at the bottom of the pot.

Garnish with bacon and extra shredded cheese.
NOTE: If you want the soup to be thicker, add flour (about 1/4 at a time) to boiling soup. Stir well to dissolve the flour.
If you want the soup to be thinner, use less than 1 cup of flour.