Classic Creme Brulee
Creme Brulee is one of those desserts that you just gotta know how to make!  It tastes delicious and you can do so many things with it.  You owe it to yourself to get this down!  But here's the good news…it's super easy!  Seriously, it's really, really easy!  Here's my basic recipe for classic Creme Brulee, but please feel free to change it up.  Add flavors, do you, Boo!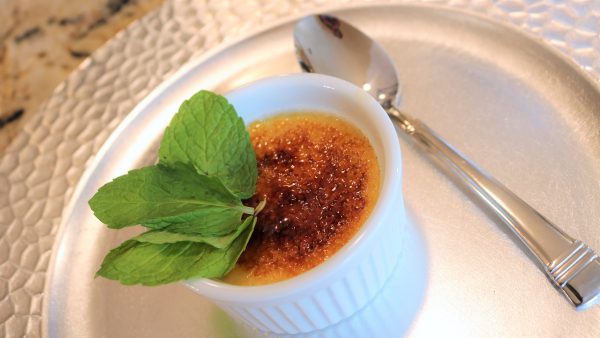 | | |
| --- | --- |
| | |
Combine egg yolks and sugar with wire whist (or stand mixer).

When yolks and sugar are well combined, add vanilla and optional orange liquor. Continue whisking to combine all very well.

Bring heavy whipping cream to almost a boil, but not quite.

Slowly incorporate the hot heavy cream and the egg yolk mixture, being sure not to scramble the eggs!

Pour batter into ramekin dishes. Place dishes in baking dish.

Pour hot water in baking dish with ramekins, creating a water bath. Pour water to half way the height of the ramekins.

Bake at 300 degrees, for 35 - 45 minutes. Until set.

Sit at room temperature for 30 minutes. Then refrigerate for several hours (at least 3) to allow custard to finish setting.

Sprinkle top of each ramekin with tablespoon of sugar, and caramelize using kitchen torch.