Everyday Beef Wellington
Beef Wellington.  The quintessential elegant dinner.  It's the kind of meal that you prepare once–maybe twice–a year.  It's so beautiful, so fancy, so intimidating…but not anymore!  It's actually quite simple and relatively quick to prepare.  You make the filling, sear the meat, wrap it up and bake it for about 25 minutes.  Not that difficult, huh.  Here's a simple recipe for every day elegance.  When you make it, be sure to appear tired from all of the effort everyone will assume you put into it!  LOL
On a serious note, however, this is a great dish for a romantic dinner at home.  No need to go out, have this amazing steak, potatoes, veggies (I recommend asparagus!) and nice bottle of vino!  Enjoy!!
Watch me make it step-by-step here: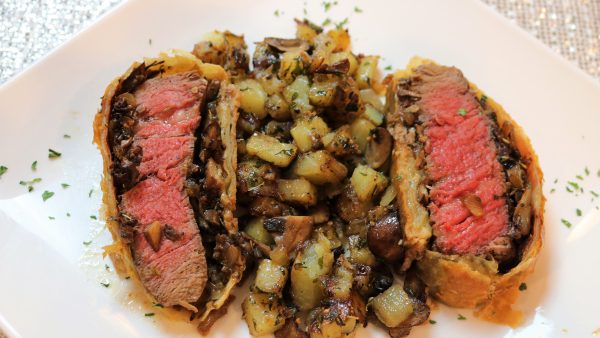 | | |
| --- | --- |
| | |
Coat the bottom of a skillet with olive oil. Place garlic, onions and mushrooms in hot olive oil and cook until they begin to soften.

Add salt, pepper and herbs (rosemary, thyme and parsley).

Cook until onions are translucent and mushrooms begin to brown. Add olive oil as needed while cooking.

When mixture is done, put in separate bowl and set aside. Use same skillet for next step.

Heat 2 – 3 Tbsp of olive oil in skillet.

Season top side of steaks with salt and pepper. Place steaks season side down in hot oil and allow to sear for approx. 2 – 3 minutes.

Season the other side of the side of the steak before turning the steaks over.

Remove from heat once seared (about 2 - 3 minutes per side)

Roll out puff pasty with a lightly floured rolling pin to create a larger rectangle. Cut pastry in half. Prepare to assemble.

Place prosciutto on pastry. Then add mushroom/onion filling.

Brush Dijon mustard on both sides of the steak and place on top of the prosciutto and filling.

Use egg wash to moisten the edges of the puff pastry. Fold the puff pastry over and around the steak until it is completely enclosed. Use egg wash to ensure the puff pastry stays closed at the seams.

Place on baking sheet. Cover top and sides of puff pastry with egg wash. Poke small steam vents with a fork.

Bake at 425 degrees for approx. 20 – 25 minutes. (Do not cook steak past medium!!)

Let steak REST for 10 minutes before cutting. Enjoy!!!!